Sumidagawa Shrine Festival is a festival to be held in Sumida Ward, Tokyo. The company was familiar with Mr. Mizukami from the local people, has taken root in the area since ancient times. The reason why it is called Mizogami like this is because the Sumidagawa Shrine was called Ukishima Shrine, Mizukamiya etc. by 1872. Furthermore, it is also the general guardian of the Sumida River, which has supported people's livelihood, and it is also related to having collected deep faith from people working in the river and the sea. However, we do not know deeply about the founding year because there is no document left. However, from 1177 to 1181, there is a legend that the Kamakura Shogunate general who went to the Kanto shimane shrine prayed for Yoritomo Yoritomo when it encountered a storm.
By the way, this festival is held once every four years at the Sumidagawa Shrine festival large festival, and in the year of Halle, headquarters shrine mikoshi is handed over. This headquarters shrine mikoshi has a pedestal street quadruped with five-sided presence, the torii etc. are also painted and decorated till the details. On sunny days, not only the decoration of the shrine mikoshi, but also the decorative strings are sparkling shining, it is exactly the rides of God. Since how to put the decorative cord on the corner handles is also characteristic, please take a look at the head office shrine mikoshi once in four years.
However, the shrine headquarters shrine mikoshi is heavy, and since we have to remove obstacles and obstacles along the way, we can not afford so much for the ladies who become the carrying buddies. Please send cheering etc. by all means when you come to the festival so that the guys like to work hard. It will certainly be powerful.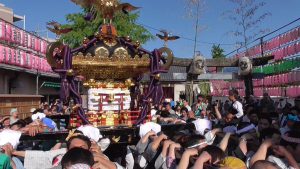 [引用]https://www.youtube.com/watch?v=MHA_4oMMviY
In other years it will be a shade festival, but although the main shrine mikoshi will not be issued here, the middle shrine mikoshi will do the transfer. The festival is scheduled to be held in 2018 and 2022, most recently.
Venue: Around Sumidagawa Shrine around Sumida-ku, Tokyo(1-17-2 Tome, Sumida-ku, Tokyo 101-0034, 17-1)
open time:
event date: On Saturdays and Sundays near June 15th
Remarks concerning the opening date:
Access method (other): Tobu Isesaki Line · Kanegafuchi Station
For inquiries: Sumidagawa Shrine 03-3611-3089