Takagi Shrine An example festival is a festival to be held in Sumida Ward, Tokyo. Conclusion of marriage It is a shrine where female popularity is popular as power spot, such as stone and rice paddle of amulet being charm. The foundation was dedicated as a guardian of the former Terajima Nitta in 1468 in the Muromachi period. For the main god of deity, I am proud of the Takamado spirit. There is also the name of the sixth sky shrine from dedicating the sixth heavenly king. It became the name of the current Takagi Shrine after separation of the Buddha and Buddha in the Meiji Era. In 2018, it will be 550 years since the beginning of the settlement, so the 550 year anniversary festival is scheduled in June.
At the Takagi Shrine festival large festival this festival is held once every three years. The latest holding year was 2016, so the next time is scheduled for 2019 after three years. At the Takagi Shrine festival large festival, the transfer of small shrine mikoshi and small mikoshi is done. When listening to the shout of "Oisar, Oisar", Mrs. Ms. 's power quickly ceases and festival is born energy.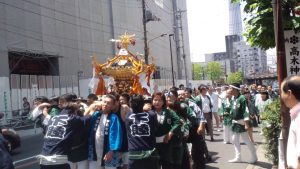 [引用]http://cafenora.blog37.fc2.com/blog-entry-703.html
In addition, a pair of shiny red copper lion dance appearances, as well as a shrine march walking around the Mizo area. The lion dance weighs approximately 20 kilometers so it is moving with a few adults. When the way to move the cloth is done well, it looks as if the lion dance is alive. Lion dance cloth can be touched by children, so together with adults children are also bringing life to Shishimai with a smile.
Edo Rikugaku that expresses emotions, emotions, and stories with unique footsteps is also dedicated by Matsumoto Genensuke under the name of Taiko drum and Shinobue, which creates a light rhythm. Edo Rikugaku in skilled Matsumoto Genosuke company is a wonderful dance entertaining God and visitors. Why not try getting drunk in old dance at the Takagi Shrine Shrine festival big festival?
Related articles:Takagi Shrine Example festival  2017【釣りバカ】