Kumagaya Fan Festival is a festival to be held in Kumagaya city, Saitama Prefecture. It is called the "Gion of Kanto Ichi" from Yasaka Shrine which is settled in Kumagaya City and it is also a big festival of scale.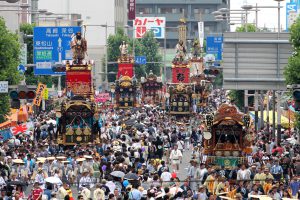 [引用]http://360.jp/blog/uchiwamatsuri/?page_id=123
The origin of the Kumagaya Fan Festival begins with joint holding of the festival by the townspeople of Kumagaya in 1750. Around this time the shrine was excavating the festival but unfortunately it was destroyed and the festival was temporarily stopped. However, the townspeople reconstructed by combining forces, festivals began to take place again in 1830. And then at the time the food shop etc distributed red rice etc. "Plutonium red bean behavior of Kumagaya avoiding plague" was part of the festival. However, when it became later, a restaurant appointed "shibu fans" on behalf of red rice appeared, other stores also established a fan, so that it became known as Kumagaya Fan Festival. It was a change in result that overlap of practical Shibuwa became popular with customers, and red meal preparations were burdensome for the restaurant.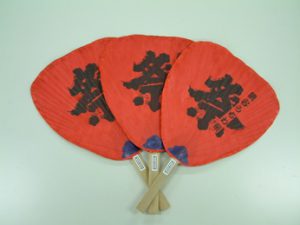 [引用]https://www.city.kumagaya.lg.jp/about/soshiki/sangyo/syogyokanko/oshirase/ouennkifu.html
Well, the shrine mikoshi is firstly held at the Yasaka Shrine at the spirit festival and the mikoshi festival where the Spirit transitions, and then the delivery to each town begins. Later the floats and stalls will be on the way and "banging" and "cruise festival" will start.
Hitting is not to physically hit the floats, but to make the sounds of festival music accompany each other. So in a batting scene you can see a competition of several festival hayashi. Batting between the floats is done even after sunset, but the floats that were lit up with warm orange lights are beautiful, and visitors will be immersed in the emotion rich feeling different from daytime.
■ Time schedule
19th day spirit festival: from 9 am
20th passing day Mikoshi Festival (Togayatsuyo): from 6 am
20th Beginning Celebration Festival (and go to school)
20th day Okinawan festival (Togako kyoto): From 10:30 am
First battle on the 20 th (Hatataki Ai): from 7 PM
21st Cruising Festival (Junenkei): 1 pm to 4 pm
21st day cruising together (Tamaki Tataki): from 6 pm
22nd Festival of the Royal Family (Anshui): from 9 am
22 days tug and beat each other (Hitting Tataki Ai): From 8 PM
Sending 22nd year number (Nanban gift): From 9 pm
22th Regional Festival (Kankyo Sai): 11: 30 pm
Venue: Atago Yasaka Shrine(Kamakura Town, Kumagaya-shi, Saitama Prefecture 360-0046)
open time:
event date: Wednesday, July 19, 2017 – July 23, 2017 (Sun)
Remarks concerning the opening date:
Access method (other): JR Takasaki line Kumagaya station East east area · North entrance station square square to the national highway No. 17 front desk
For inquiries: http://uchiwamatsuri.com/