Yushima Tenman-shi example festival is a festival to be held in Bunkyo Ward, Tokyo. In the shrine is called Tenjin like Mr. Sugawara Mamo who is familiar with it as a main god festival. Because of this, Yushima Tenman-gu Shrine is also called Yushima Tenjin, so we are crowded with students and parents of worshipers in the entrance exam season in order to appreciate the benefits of Sugawara Mamo. The building of Yushima Tenman-gu is very old, 458 years old, the imperial ceremony of Emperor Hiroshi Tenyo, served life and became the founding of the foundation. The enshrinement of Sugawara Mamosuke is the later 1355 years, and the establishment theory is divided between 458 and 1355.
Now the Yushima Temmangu Shrine festival's main festival will be held every other year, not every year. Since the Christian era will be an even-numbered year, do not forget it. At the main festival, headquarters shrine mikoshi and phoenix ride on the carriage and go around the Mizo area. And since the headquarters shikigami transit is held once every four years, we are looking forward to participation.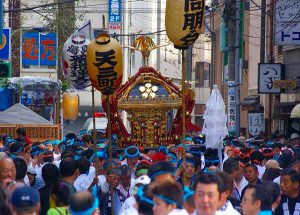 [引用]http://hix05.com/maturi/yushima/yushima00.html
Since the Msuko area is composed of 25 towns, you will see a lively union leadership which each shrine mikoshi collects together. And in passing, we also walk around Monkey Takahiko and Shinkuma and we are pleased to hold the festival. Besides that, Gagaku playing a unique elegant tone by dragon whistle and sho also is played, and you will get drunk in a wonderful atmosphere. Then at the example festival, plum family crests that Sangawara Mamosumi loved in various places, such as headquarters shrine mikoshi and coat of Mrs. and others, were seen, and the public may be pleased.
Venue: Tokyo around Bunkyo ku Surrounding Yushima Tenjin
open time:
event date: May 25, 2017 (Thursday)
Remarks concerning the opening date: http://www.yushimatenjin.or.jp/pc/index.htm
Access method (other): Tokyo Metro Chiyoda Line · Yushima Station
For inquiries: Yushima Tenjin 03-3836-0753