Mito Komon Festival is a festival to be held in Mito city, Ibaraki Prefecture. It is familiar to citizens as summer scenes of Mito city, where about 1 million people are expected in three days. The festival is named after Mitsudo Mitsuo, the lord of the Mito family, the main character of "Mito Komon" famous for historical dramas.
Well, the origins of Mito Komon Festival were the summer 'Tanabata Festival' held around 1935 and the 'Advertising Festival' in autumn. When the end of the war was over, the festival was revived to make the area exciting, and the shopping street was held as "Tanabata Festival". In 1961 when the time passed, when the cast of the era Mito Komon visited Mito city hall by photography, people of the time were inspired and the "Mito no Tanabata Komon Festival" was born. It was in 1992 that the current "Mito Komon Festival" became the current "Mito Komon Festival" by repeatedly changing and renaming in this way.
At the Mito Komon Festival held over three days, fireworks festival is held on the first night night, and approximately 4,500 fireworks will be launched. It is content that is rich in entertainment, such as matching launch to music. The inverted fireworks reflected in Senba lake at the venue are also reputed as having a moist and quiet atmosphere.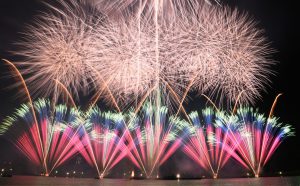 [引用]https://www.youtube.com/watch?v=HVv5PUeXmd0
And the cruise of the mountain car is the middle day and the last day, the mikami coalition passed on the last day. Since several shrine meetings participate every year from the inside of Ibaraki prefecture, it will be a cruise of a mountain car filled with energetic energy and a mikoshi coalition. The Shrine Concert honor the power with the shout of "Oisa! Oisa!", Breath-fresh shrimp crumpled, entertaining the gathered visitors and entering greatly. Beautiful mikoshi, which was handed down by each shrine, such as the Hiyoshi Shrine Mikoshi built in 1832 about 200 years ago, and the big shrine of Kashima Shrine weighing about 1 ton, is a must-see.
Mito Komon Parade also invites celebrity guests every year. In 2016, Mr. Kazama Tooru, a veteran ikemen actor, model and talented Mr. Haruka Fukuhara participated and became a big topic. Please note that the venue will be very crowded with visitors to see the celebrities on the floats. The guest responds to cheers by waving gently while showing a cool yukata every year. Besides this, the parade will continue as the tourism ambassador, cheerleader and others show off their performances. Some groups dressed as Mito Komon are also seen, and it is popular that the parade where participants exhilarated every year is interesting.
Venue: Ibaraki Prefecture Mito-shi Ueami Downtown
open time:
event date: August 4, 2017 (Friday) to August 6 (Sunday) 2017
Remarks concerning the opening date: http://www.mitokoumon.com/festival/mitokoumon.html
Access method (other): Train: Tokyo Station to Mito Station (74 minutes by JR Joban Line Limited Express) Ueno Station from Mito Station (65 minutes by JR Joban Line Limited Express) Cars: Mito IC from Tokyo (90 minutes on Joban Expressway)
For inquiries: General Mito Tourism Convention Association 029-224-0441