Aizen Festival is a festival held in Tennoji Ward, Osaka City, Osaka Prefecture. During the festival period, Aim Soko, who is the master priest of Aizen Shogaku Koroin, and "Daimyo Otaki Kanji grand prix" are opened, so Buddha statue fans will also visit at first sight to see that figure. Especially Aibo Dempse has a benefit of disease-free birth and marriage, so why not try participating in the festival and afraid it? Aizen Festival, familiarly nicknamed "Aizen-san", is also known as one of the "Osaka 3 major summer festivals", arranging shoulder with Sumiyoshi Festival and Tenjin Festival. Every festival is loved by people in Osaka, each of which is nicknamed Mr. Aizen, Sumiyoshi, Tenjin. Therefore, there are many people who remember the festival with a gruel match saying "Ai (love), Sumi (residence) (heaven)".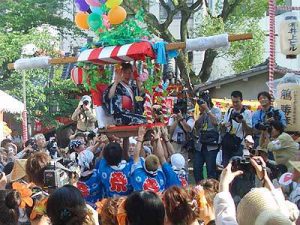 [引用]http://www.aizendo.com/
By the way, tracing the origin of the Aizen Festival, an event called "Katsuhiko Natsukoshi" was held on 30 th June, it is a person whose Prince Shotoku opened the Aizen Festival in 593. Because of that, Aizen Festival is also known as the oldest festival in Japan.
A general festival's highlight is a mikoshi or a mountain car with men's clerk, but in the Aizen Festival, the ladies ride the red and white basket decorated with brilliant flowers, and walk through the town "Bae Treasure Cage (bakugo) parade "Is the highlight. My girlfriend is Aizen daughter, and it is chosen every year by the audition. If the basket is close, you will hear that in lovely voice "Aichi san, ho, eh, Kago ~", the mood will brighten up. Aizomi daughter is currently riding a treasure bunko, but geisha such as Kitashinchi were on board a while ago. Let's gain energy from the beauty and charm of Aizomi's girl, and let's overcome the horrific summer.
Venue: Osaka Prefecture Osaka-shi Tennoji Ward (5-36 Yuya-ku cho, Tennoji ward, Osaka-shi 543-0075 Osaka prefecture)
open time:
event date: June 30, 2017 (Fri) – July 2, 2017 (Sun)
Remarks concerning the opening date: http://www.aizendo.com/
Access method (other):
For inquiries: http://www.aizendo.com/