Kishiwada Danjiri Festival is a festival to be held in Kishiwada City, Osaka Prefecture. The Kishiwada Danjiri festival held every September is known as a rough festival contesting 1,2 in the whole country, and it is featured in national news as a fallure of the fall. By the way, if you say Danjiri as a kanji inscription, it will be a "planet", could you read? There are many people who do not know the Kanji surprisingly, so please try putting out as a quiz to the story of the story.
The Kishiwada Danjiri Festival was born in 1703, when Okabe Choto Tadashi who was the lord of Kishiwada at that time asked for Kyoto Fushimi Inari, and went on the Inari festival in hopes of rich crops. When the day of the festival comes, gatherings of pure white undergrowth squirrels gather around the twisted bowls and wait for dancers for now. If you look at the dancer close by, you can see that fine and graceful sculptures carved by craftsmen's technique are engraved. Each area has dust and it is possible to see different designs in each.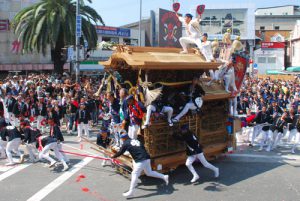 [引用]https://www.city.kishiwada.osaka.jp/
Well, the Kishiwada Danjiri festival's eyeballs will be "Drilling" again. Turning around refers to changing the direction of travel of a dradama with 1 unit of 4 tons by 90 degrees. Those who are riding danjiri are called carpenters, and instruct them to change the direction of travel to a drilling crown holding a fan.
Danjiri has a rear lever attached to the rear so that you can change the position 90 degrees to smoothly change the direction of travel. There are plural places such as Cancan field and ephemeral bridge etc. where plays are done. Ensure a place that you can easily see and watch spectacular gangs in front of you. There is no doubt that the gable roof will be excited about the scenes running down Osaka's wind.
During the day it is a rough Kishiwada Danjiri festival, but lots of lanterns are raised at night and it is wrapped in a fantastic atmosphere. Why do not you visit Kishiwada City by the Kishiwada Danjiri Festival where the gap between day and night is intense?
Venue: Kishiwada city city(Kishiwada City, Osaka Prefecture)
open time: Shunkyu: 6 am – 10 pm Shonomiya: 9 am – 10 pm
event date: 2017 Shunkyu: September 17 (Sat) Main shrine September 18 (Sun) Shunsan Palace: October 8 (Sat) Shonomiya: October 9 (Sun)
Remarks concerning the opening date: https://www.city.kishiwada.osaka.jp/site/danjiri/
Access method (other): Nankai Main Line Kishiwada Station Nankai Main Line Hokkaidōjo Station
For inquiries: