Ogaki Hachiman Shrine Festival is a festival to be held in Arakawa Ward, Tokyo. I read that the shrine keeps it. Materials related to the year of creation are regrettable and are not cleared clearly. However, the shrine has a single tag, I know that the shrine was built in 1385. It is speculated that it was being recommended from the information of this rack tag before 1300 and 1392 north and south morning era. In addition, the area of Ogaki was donated to the Kamakura Tsurugaoka Hachimangu Shrine around 1312, there is also a view that the recommendation of the Spirit is related to the creation, and it is Ogaki Hachiman Shrine with many mysteries.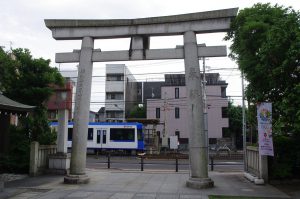 [引用]http://pawasupo.net/2119
By the way, at the Ogaki Hachiman Shrine festival, the Kamikoku Festival is held once every four years, a shrine mikoshi is carried by the dolly and it goes around the Mizo area. I understand it when I join, but the security guard is also a festival with a little impression. Regional pattern Because of the fact that Tokyu is running, there is no way for safety management. As we arrive at the shrine of a shrine mikoshi, we can take shots of the shrine mikoshi and the Tokyo Electric if we are lucky, so it seems that you can see the railway fans who hang the camera from the neck at the festival. Since it is a shinko festival once in four years, please be careful of the contact accident with Tokyo Electrical Appliances that can interrupt the festival at the time of participation.
At the Shinko festival, high-tension lanterns, Kunitsu god's monkey takahiko, stalls with accompaniment, shrine horse riding, and mountain cars journey through the shrine area, and will pay the virtue so that happiness will come and pay for all the child's troubles. In addition, the long-awaited opportunity of four-yearly opportunities is waiting for Mrs. Children's enthusiasm for a great success. Let's check the schedule by making inquiries, etc. so that we will not miss participation in the long Kamikoku Festival until the next event until we see once.
Venue: Arakawa-ku, Tokyo Surrounding Oku Hachiman Shrine(3-7-3 Nishihisaku Arakawa-ku, Tokyo 116-0011)
open time:
event date: Saturday, August 5, 2017 – August 6, (Sunday) 2017 * First Saturday and Sunday in August of the year
Remarks concerning the opening date:
Access method (other): 3 minutes on foot from Miyanoshimae station on the Keihan Arakawa line
For inquiries: Ogaki Hachiman Shrine 03-3893-1535