Tsuruoka Tenjin Festival is a festival to be held in Tsuruoka City, Yamagata Prefecture. This festival is also known as "Baekono Festival" and is also known as a festival. The origin of the festival is the event that Sugawara Mamo, known as the god of learning in 901, was relocated to Dazaifu Kyushu by the Emperor Daigo, those who refrained from doing so concealed the face and appearance and gathered to see off the crying sake I am from. Although it was Emperor Daibo who commanded the release, there is a record that Fujiwara Hiraji was dark in the back. In other words, the people who disappointed about the leftist disappeared because Mr. Fujiwara et al. Did not pursue unnecessary pursuit. From this, people at Tsuruoka Tenjin Festival are dusting to "baits".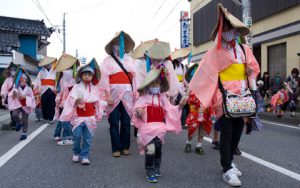 [引用]http://www.shonai-navi.com/
In order to become a monster, both men and women wear a hood and a braided hat to hide the face and wear long dresses and crotch clothes. Then, men are dressed in girls, women are dressing up, and devising devises so that nobody knows identity. The appearance of drinking alcohol to people who met on the roadside while going up to private houses in the city may be a bit creepy. Although the monkey at this time feels a little scary to act like drinking in silence, let's thank for the delicious liquor by all means. Recently there have been an increasing number of juice behaviors for tourists and drivers. Those who have been able to visit Tsuruoka Tenman at the Tsuruoka Tenman anyway for three more years without noticing the true identity have a legend that the wish will come true. Why do not people who wish to grant fulfillment become faked and participate in a ceremony for three years?
Besides this, at Tsuruoka Tenman Shrine Mikoshi, you can also see the scenes of Feng Shui mikoshi gently wrestling with a clerk wearing white clothes, dedication of Tengu dance, parades and more.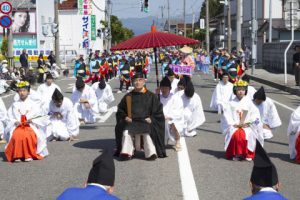 [引用]http://www.tohokukanko.jp/
lease do come and visit Tsuruoka Tenjin Festival!
Venue: Tsuruoka city Yamagata prefecture(Tsuruoka City Shinmei-cho 3-40 Tsuruoka Tenman-myeon)
open time: 14: 00 ~ parade start
event date: May 25, 2017 (Thursday)
Remarks concerning the opening date:
Access method (other): Bus: 10 minutes from JR Tsuruoka station toward Yunohama Onsen. Get off at the City Hall. Car: 10 minutes from Tsuruoka IC (Please use Tsuruoka park parking lot.
For inquiries: Tenjin Festival Executive Committee (Tsuruoka City Tourism Bureau) Tel: 0235-25-2111