The Hanno Festival is a festival to be held in Hanno, Saitama. The way of reading is not a good idea but a "hangout".
Although it originated from the Hanno Festival, organizations such as Hanno City and the Chamber of Commerce and Industry launched in 1971 as a citizen festival, not based on the general temple shrine temples festival. The month to be held is November, but there was one time that was held in September. However, because it is susceptible to typhoons and rain, it began to take place in November when the weather is stable. In addition, because it is a citizen festival, Hanno City has been set up for the first time on Saturdays and Sundays where everyone is easy to participate, so that the number of visitors will record more than 130,000 in only two days It is wrapped in. And the Hanno Festival will be held not only in the autumn of November but also in July full of summer so please do have it here.
By the way, the Hanno Festival goes through the city centering on stalls and floats. In the eve of the evening, a parade, a walking round of a mikoshi and a folk singing will be held. One of the highlights is to drill a bottomless stall or a floatsplant, and then "meet together (grafting)" is also done. It is meant that each other's festival musicians compete with each other when the floats meet each other on the road. Especially at the Hanno Festival, excitement will be a climax in the scene where the crawler hands the folding fan to the left and right according to the festival accompaniment "hanging up", and raises a scree with "Soret, Sorett". "Sawarabi" is a festival music with a fast tempo, and a strong wind will blow when you are near a drawer with a fan.
And at the main festival to be held the day before the eve of the evening, it is a sightseeing cruise and lion dancing where Koumo dance leads the floats.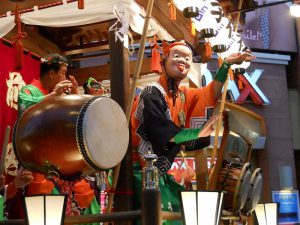 [引用]http://tonbitoyosuke.at.webry.info/201011/article_6.html
Please also take a look at the dance that is fascinated by the "foreign roads" that have suffered the face including the unique sweetheart. As dancing can be carried out on the floats that are towed throughout the city, so do not forget the grace of the floats as well as this viewing.
Venue: Saitama ken Hanzo
open time: Saturday 12: 00-21: 00 Sunday 09: 00-21: 00
event date: 2017 Shunkyu: Saturday, November 4, 2017 to Sunday, November 5, 2017 Normal: First Saturday and Sunday in November
Remarks concerning the opening date: http://hanno-tourism.com/
Access method (other): Hino Station North side entrance (red) → Ginza street, main street, central street
Hanno Chamber of Commerce and Industry (Blue)
For inquiries: Tel 042 – 973 – 211 1 (Honno Festival sponsored association)