Suka Shrine is a festival to be held in Shinjuku-ku, Tokyo. Although it is a Suka shrine currently present in Suga Town, it was not located here from the beginning. Actually, in 1634 in the Edo era, in order to promote the Edo castle outer moat it was transferred from the current Akasaka area to Yotsuya. And this time it was transferred Inari shrine to serve Inari shrine.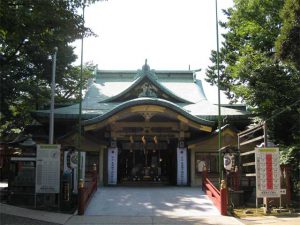 [引用]http://www.tesshow.jp/shinjuku/shrine_suga_suga.html
Well, since Suka Shrine is a general guardianship with 18 towns in Yotsuya in Tokyo, each shrine and colleague will take over shinko handover in turn. While shifting the shrine's shrine transit is called "head shrine mikoshi handed down", hot cooperation of the family members in each neighborhood can be seen. The shopper's heart also hurts the appearance of playing a heavy shogun while shaking both feelings to one with both the girls shouting, "Hey Saa! Hey!" As you can see from the movie, you will be handed over at "Yotsuya-shi" which places the stick behind the neck. However, it does not necessarily have to pass with Yotsuya carrying, and you can also see a shipper who plays the Edo front that supports a shrine and arm with a shoulder and arm.
Well, there are stairs in front of Suka Shrine, but it is quite hard to climb a heavy shrine. I will steadily progress one step at a time not to drop the shrine mikoshi before entering the temple. Only at this time the facial expressions of the doors will be pretty steep, and a gentle atmosphere will disappear.
Nevertheless, it is going to enter the temple while raising the call of "Hey Saa! Hey! After entering the temple a lot of smiles were seen in the precincts from the sense of accomplishment that accomplished the shrine transcendent passing, all members of the audience and the gathered friends pleased with the success of the festival.
■ Schedule
June 2 (Friday) Shunkan (the eve of the night)
June 3 (Saturday) Example festival celebration 11 am
Warumi Wadaiko dedication (in the precincts from 5:30 pm)
Dragon Odori dedicated to Higashiro club (in the precincts from 6 pm)
Shop floor stall opening store
June 4 (Sun) 18-town union shrine transit
Departing at 12:30 pm Shinjuku dori near Yotsuya 3-chome
Miya entrance at 4:30 pm Shrine grounds
Shop floor stall opening store
Monday, June 5th Monday
Venue: Around Suka-cho, Shinjuku-ku, Tokyo
open time:
event date: June 2 (Fri) – June 5 (Monday) Heisei Shimbun Stadium was held on June 3 (Saturday) and June 4 (Sun) on 2 days
Remarks concerning the opening date: http://www.sugajinjya.org/index.html
Access method (other): JR Chuo Line Rapid · Sobu Line Station Stop 10 minutes walk from Yotsuya Station Sobu Line 10 minutes walk from Shinanomachi Station 10 minutes on foot from the Marunouchi Subway and Nanboku Line Yotsuya Station on foot 10 minutes on foot from Marunouchi Line Yotsuya 3-chome Station
For inquiries: