The Nagaoka Festival will be held in Nagaoka City, Niigata Prefecture on Tuesday, August 1, 2017.
The Nagaoka Festival was born on August 1, 1946 with the aim of praying for the victims of Nagaoka Air Raids on August 1, 1945, rebirth and development, wish for permanent peace. Currently called the Nagaoka Festival, its predecessor is the name Nagaoka Reconstruction Festival.
The victims of the Nagaoka air raids were 1,486, and the damage was serious such as 80% of the city area became a burned field. In the Nagaoka reconstruction festival held one year later, rubble was not removed and it became a big step towards reconstruction in the absence of healing of wounds of war damage yet. Later, with the encouragement of citizens and others, the reconstruction has proceeded greatly, and since 1951 it became the name of the present Nagaoka Festival.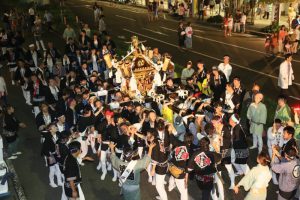 By the way, on the first night festival on August 1, parade · great folk song shed · Echigo Nagaoka memorial shrine mikoshi passed.

The great folk song singing is an event where more than 5,000 dancers gather, local companies Nagaoka and folk song circles participate. Since it will be OK for free participation from around 8 o'clock, let's share joy while dancing with Nagaoka Noga together with the dancer.

Echigo Nagaoka memorial shrine mikoshi handedly carries with all those who wear the coat of honor covers all over the city. Although it seemingly lifted lightly, the weight exceeds several hundred kilometers. Moving one step at a time, you feel a sense of unity, a sense of unity and fatigue is not felt, and the power springs up. There are also shrine transfers that are recruiting carriers, so if you are interested in joining from outside please contact Nagaoka City. Even if you do not know how to shop for the mikoshi, local participants will tell you kindly so worry is unnecessary. In addition to this, Kakikawa lantern basket shedding etc. is done as a related event.


And on August 2nd and 3rd we will have a daytime event and a big fireworks fairly awaited. The big fireworks are majestic and elegant, and cheers are raised by the audience each time they hit. The official website introduces the name of the fireworks and it makes it possible to understand the wishes and images put in the fireworks. The beauty of Niagara Star Mine Phoenix will be a wonderful memories of a summer.

In addition, there is a Nagaoka war damage museum in front of Nagaoka station, and a number of materials showing the state of air raids are displayed. Please also visit here and feel the misery of war and the preciousness of peace.

■ Time schedule
Past: Nagaoka Festival Program Reference for Heisei 28
Http://nagaokamatsuri.com/gyouji.html
[Eve before the evening] 6:00 pm – 10:00 pm
[Daytime event] 11:30 am – 3:30 pm
[Large fireworks display] 7:20 pm – 9:10 pm

Venue: Nagaoka-shi Niigata Prefecture Chosei Hashigashi riverbed
Access method (other): 30 minutes on foot from JR Joetsu Shinkansen Nagaoka station
For inquiries: http://nagaokamatsuri.com/