Kasai Shrine example festival is a festival to be held in Katsushika Ward, Tokyo. Kasai shrine was founded in 1185 with dedication to the divine spirit of Katori Shrine which is presently in Chiba Prefecture. The name at this point is not Kasai shrine but Katori shrine, the name was declared as present Kasai shrine from 1881 when time passed.
By the way, at the Kasai shrine festival large festival, the festival is held once every three years, and delightfully the shrine mikoshi is handed over. This shrine shrine Mikoshi is a precious thing built in the period of Ansei in 1854 to 1860. The local people are also looking forward to it because things can only be seen once in three years, we will go together. The size of a mikoshi is quadruple square and there is very penetration. It is led by women 's hand – drawn performances, and I will do my best praying for the well – being of Mrs.
Then, the Kasai dance ceremony dedicated at the Kasai shrine festival grand festival Shunsuke is not only the intangible cultural asset designated by the Tokyo metropolitan government, it is also the source of various musical accompaniments rooted in various places. In the middle of the day, Matsumoto Genensuke will play a traditional vocal music played by the company. From the figure that dances in the wind stream by riding a distinctive tone (sirabe), you will feel the wonderfulness of the tradition that has been cultivated. And in the last celebratory event, the shrine of Shinnomiya Shrine Mikoshi goes around the Mizo area and the festival closes the curtain.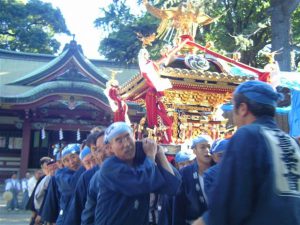 [引用]http://kasaijinjya.world.coocan.jp/event/reitaisai.html
Although it is information of ear, it is possible to participate if you join the preservation society of Kasai shrine palace mikoshi. Even beginners welcome participation warmly, so if you would like to enjoy Kasai shrine festival great festival together, please try asking from the shrine official website.
Venue: Near Kasai shrine around Katsushika Ward, Tokyo Metropolitan area(〒125-0041 Tokyo Town Katsushika-ku Higashi Kincho 6-5 10-5)
open time: Miya 8 o'clock / entrance to the temple at 19:20
event date: September 16 (Sat) and September 17 (Sunday), 2017 Normal Year: Mid September
Remarks concerning the opening date: http://kasaijinjya.world.coocan.jp/
Access method (other): Kasai shrine 03-3607-4560
For inquiries: 10 minutes on foot from Kanamachi Station on JR Joban Line · Keisei Line