Chigasaki Kaihama Beach Festival is a festival to be held in Chigasaki City, Kanagawa Prefecture. Sometimes it is called a dawn celebration. There are various opinions about the origins of the festival, one is the theory that originated from the goddess who went to the cliff on the beach of South Lake when the shrine of Samukawa Shrine was lost and found in 1838, It will be a beach on the beach which was done to purify the filth. As for the latter, there is a record that it was done before 1838, etc. It is not clear which is the exact origin.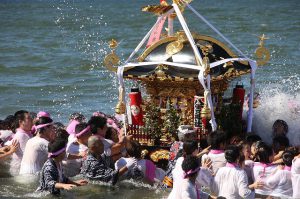 [引用]http://blog.livedoor.jp/ef6477/archives/52073485.html
By the way, Chigasaki Coast Beach Festival is a festival where overwhelming participation of 34 companies including Tsurugamine Hachiman Shrine, Tsurigama district, Chigasaki district, Samukawa district, and South Lake area are seen. It is characterized by a very early time from 4:00 am, and some visitors come while watching the sleeping eyes. As for shrine place where mikoshi is issued, it is done from around 2 am at the time of Oxi three times where plants also sleep as soon as possible. As you can see, the Chigasaki beach festival is an unusual festival that starts from early morning at midnight. Once the shrine is put out, the shrine mikoshi aims at the coast of Nishihama which is the place of the hill. When around 4:00 in the morning, a large number of shrimp shrines gather at Nishihama Beach and waiting for the time when the clerk is now or not. By the time the morning sun rises, the shrine of shrines etc. who received the ceremonial ritual begins.
In the shrine, Mrs. Miko who carries the shrimp walks forward without hesitation from the Nishihama Beach to the sea. Although it will not proceed to deeper places, the waves still rush until the Mrs. Knee, so wave splashes are hanging on the shrine. Perhaps you are worried about whether the shrimp will be damaged by salt water. But this is the real thrill of the Chigasaki Coastal Beach Festival. In the shrine, the clerks raise a hard voice "DokkoiDokkoi!", But sometimes you can hear Chigasaki Nanba so please try listening.
■ Time schedule
The first mikoshi enters the festival venue around 4 am (all mikoshi arrive sequentially until 7 o'clock)
7 o'clock Beach Festival Joint Festival Opening Ceremony
8 o'clock shrine (departure for return)
9 o'clock end ※ The shrine is in the sea before entering the entrance and returning after the festival is over
Venue: Kanagawa ken Chigasaki city Nishihama coast(Southern Beach Chikasaki West side)
open time: Described above
event date: July 16, 2017 (Sun)
Remarks concerning the opening date:
Access method (other):
For inquiries: http://www.chigasaki-cci.or.jp/hamaori/
Chigasaki Coastline Beach Festival Executive Committee 0467-75-0004