Chichibu Night Festival is a festival to be held in Chichibu city, Saitama Prefecture. Since it will be held in December at the end of the year, it is also known as a winter weather. It is also called the Myomi festival and the silkworm festival, and the silkworm festival is related to the fact that the local people have grown as a city of silkworms during the Edo period. It is also the 3rd largest hikiyama festival in Japan, and will line up with the Kyoto Gion Festival and Hida Takayama Festival. Furthermore, on December 1, 2008, it was regrettably registered as UNESCO Intangible Cultural Heritage, and further increase of tourists is expected. Incidentally, stalls and Kasaboko are also designated as nationally designated important national cultural assets, making it a history to be felt. There will be few opportunities for nationally designated important national cultural assets to be seen in the near future.
There are Chichibu Shrine and Mt. Kibeyama in Chichibu City, there are Goddesses (Myoko Bodhisattva) and Men God (Ryujin) in each. Myoko Bodhisattva was a god of sericulture, Ryujin was also a god of water. The two gods liked each other, but already there was one who was given a guarantee, so it was impossible to be together. So the two of us are supposed to see you at the annual Chichibu Night Festival. So at about 8 p.m. Chichibu Night music and stalls begin to travel to the travelers where the two of us meet.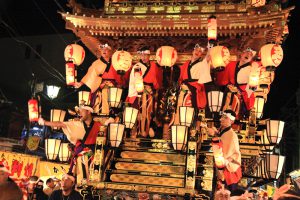 [引用]http://navi.city.chichibu.lg.jp/p_festival/1030/
There is a sudden dumpling slope along the way to the journey, the crawler hands the stalls together with the power. At the journey, Kagami Shrine Kagura and other dances are donated, and a big fireworks is launched at the festival finale. Since the winter night sky is clear, the fireworks look more beautiful than usual, so please do watch it at the Chichibu night festival.
Venue: Chichibu Chichibu Shrine, Saitama Prefecture
open time:
event date: Saturday, December 2, 2017 – Sunday, December 3, 2017
Remarks concerning the opening date: 1-3 Shiba cho, Chichibu city Saitama prefecture 368-0041
Access method (other):
For inquiries: http://www.chichibu-matsuri.jp/ TEL:0494-24-7538