Yahata Inari Shrine Example festival is a festival to be held in Taito-ku, Tokyo. It was founded as a guardian deity of Asakusa Sanjusangen-do, built in 1642 by the Tokugawa Shogun Shogun Tokugawa Iemitsu, by inducting Daimyojin Inari. At that time there was a competition competing for the skill of the bow called the armpit and it was named Shiro Inari shrine because it was located at the end. As for Arashiya, it is also done in Kyoto Sanjusangendo, and it was done according to here and also in Asakusa Sanjusangendo. Although there are not many shrines in the city that suffered from the damage of the earthquake disaster and war damage, Yagashiri Inari shrine unfortunately burned down at Asakusa big fire, and it reaches the present after rebuilding.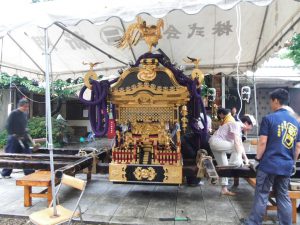 [引用]http://blogs.yahoo.co.jp/letgooutgo/64065890.html
By the way, this festival is held once every two years at the Yabata Inari shrine festival large festival, and shrine shrine passing where plenty of shouts fly from morning is done. In the year of the shade of the shade of festival one will be handed over from the afternoon, so please be careful because the time of the shrine is different at this festival and shade festival. The head office of the image The shrine mikoshi is under preparation, but the majority of the carrying sticks are worn out, which means that the festival has been done all the time. Although it tends to pay attention only to the shrine mikoshi at the festival, preparations that do not take place are also good opportunities for you to see the shrimp slowly.
By the way, when the headquarters shrine mikoshi is introduced led by Saru Takahiko, a big cheer rises from the guys and visitors, the festival rises from the early stage. Although something is a fight for festivals, at the Yabata Inari shrine festival large festival, there is not much conflict between the two children. Actually, we have many opportunities to carry shikikoshi, so many Shinkaku are able to carry out shikiko handed down properly. Therefore, no tie-up between the sticks takes place, everyone enjoys the festival warmly.
Venue: Around Taito Inari shrine around Taito-ku, Tokyo(14-1 Matsugatani 2-chome, Taito-ku, Tokyo 111-0036)
open time: From the beginning of the ceremony at the festival from 8:30 in the morning, the entrance of the 9 o'clock big shrine
event date: On the 2nd Saturday and Sunday of June every year
Remarks concerning the opening date:
Access method (other): Ginza Line Inaricho / Tahara-cho 7 minutes, Asakusa line 10 minutes each line, Hibiya line Iriya station 11 minutes, Tokyo bus Kikuya bridge hall 3 minutes
For inquiries: Yahabi Inari shrine 03-3844-0652