Mizuho Tenno Festival is a festival to be held in Hachioji, Tokyo. The Mizuho Tenno Festival was held jointly by three companies, Yakumo Shrine (Hakone gaku, founded in 924), which is settled in Mizuho Town, Suka Shrine (Ishihata, unknown year of foundation), Suka Shrine (Lord Roga, unknown year) I will. Every shrine is suffering a deceased Masayuki man 's life in Gion' s faith to the Lord God.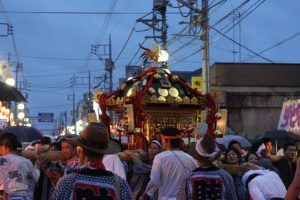 [引用]http://blog.livedoor.jp/cool_change40/archives/2011-07-06.html
The festival is held for two days, a cruise to the Megumi area and a joint parade of three companies will be held. Many visitors gathered from the size of the scale, Mizuho Town is filled with vibrancy. Well, the shrine of the Yakumo Shrine is three shaku six squares, the shrine of Ishihata Suka Shrine is two-sided six-sided shrine, the shrine of Soga Shrine of Gorogoya Shuku is the size of three shaku-shima. Especially since the shrine of the Yakumo Shrine is decorated with many decorations around the waist, I will remember the gorgeous impression. The three companies are not often seen in the festival, so Mizuho Tenno Festival is also a great opportunity to watch each boasting mikoshi.
Furthermore, floats of Hakone gigasaki, Ishihata, Lagogya will also appear, but features such as bow lanterns and decoration of waistboards are featured in each town to add flowers to the festival. Then a child mikoshi by children who give out a gentle voice, accompanied by accompanying musicians who perform elegant sounds and handicrafts together, it will be an annual festival every year. It is easy to join even those with young children, as it is a blockade of the Ome road.
Venue: Tokyo area Hachioji city Mizuho-cho neighborhood (Yakumo Shrine · Suka Shrine)
open time:
event date: July 15 (Sat) 2017 July 16 (Sun) July 2017 Normal: Saturdays and Sundays around July 15
Remarks concerning the opening date:
Access method (other): JR Hachiaki Line · Hakone Gasaki
For inquiries: