Hot spring festival is a festival held in Yugawara-cho, Ashigarashimo-gun, Kanagawa prefecture. The origin of the hot spring festival dates back to the Edo period about 400 years ago from now. Hot water of Yugawara Onsen from that time was known to people of noble status that efficacy was excellent, and a donation to carry hot water etc. was done. And safety prayers before making a presentation were exhilarating by hanging hot water. Hot water circulation for this safety prayer is the beginning of the current hot spring festival.

Hot spring festival is a festival that mercilessly multiplies hot water for mikoshi literally. The amount of hot water in the hot springs prepared for that purpose is 1,000 barrels, and the weight is about 60 tons, which is enormous. Hot water is 50 to 60 degrees of hot water, and steaming is standing even if it draws for a while. Because it will leave the drawn hot water till the mikoshi passes, when it hangs it will be a comfortable temperature of 30 to 40 degrees. You can put hot water from one to the next, but everyone in the carrying party is only smiling. Especially, although it is a woman, you can see a lot of people holding the hair with a headband or bandana beforehand so that the hair does not get disturbed by the hot water.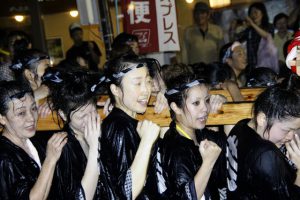 [引用]https://plaza.rakuten.co.jp/humio/6000/
At the beginning of the festival, although hot water is hanging on the shrine as it is determined, the appearance that the audience gathered among them gathers hot water increases. People who are shooting cameras and those who do not want to get absolutely need to take hot water measures with kappa, etc. It is interesting to see that the waterproof measures are different depending on the person.
By the way, while hot water is hanging, five shrine mikoshi walking about 2 kilometers, but one of them is what female ordinary customers can carry. Although it is a popular hot spring festival festival that was fun to participate, how about female loving women who join your friends by all means with your friends?
Venue: Kanagawa prefecture Ashigarashimo-gun Yugawara-cho neighborhood
open time: Fudo Falls (departing at 7 pm) ~ Yugawara Tourist House (around 8 p.m.) ~ Izumi Park (arrival around 9:00 pm)
event date: May 27, 2017 (Saturday) ※ It will be held on the 4th Saturday of May.
Remarks concerning the opening date: http://www.yugawara.or.jp/
Access method (other): JR Yugawara Station → Immovable Fall / Oku Yugawara Row
For inquiries: The general association Yugawara Onsen Tourist Association 0465-64-1234