Fukaya Festival is a festival to be held in Fukaya city, Saitama Prefecture. It is also a festival full of energy, deserving to conclude the end of July. The origin of the Fukaya Festival dates back to 400 years ago. In 1681 the three company Tenno (Buddhist Tennou King, Daikokuten, Benzaiten) was transferred from Fukaya Castle to the present Aioi Town and renamed Yasaka Shrine, the Yasaka Festival which became the base of the Fukaya Festival began.
On the first day of the festival, the Yasaka Shrine Mikoshi's passing and the rucksack of the mountain stalls are held and it will be a vibrant dawn. The parade of the municipal consular shrine's mikoshi begins to gather together people carrying water along the roadside, but when it comes closer to the shrine, she can bathe and bathe himself with water. Fukaya city is a custom that started from the fact that the temperature records the hot weather every year. When bathed in water it is said that Mrs. Hiro's burning is refreshed cleanly and you can do it well in the hot weather.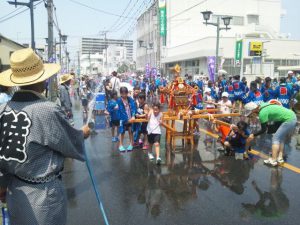 [引用]http://blog.livedoor.jp/masapee777/archives/51952648.html
Also, let's note that routes of mikoshi differ in day and night. In the vicinity of the station street where the shrine brush passing is carried out, floats stand, Soran dance, Ranba are displayed, but ingenuity is made so that you can watch the gifts in the area where the travel distance is suppressed. So you can do the ladder of the lady's outlook smoothly.
And in the dusk at dusk, stalls with gentle lit lamps gathered in the aisle, brilliant and ornate tapping is done. The audition of hitting in the state of being caught in front of and behind by the float car reaches the sound directly, and the venue is enveloped in the emotion-rich atmosphere mixed with elegance and transience in the wind current. Please pass through all day and night and enjoy the Fukaya Festival.
Venue: Saitama Prefecture Fukaya city Surrounding JR Fukaya station North Exit
open time: 11:00~21:10
event date: Normal year: Last Saturday of July
Remarks concerning the opening date:
Access method (other): JR Fukasaki Line Fukaya Station
For inquiries: Fukaya Tourist Association 048-575-0015