Fukagawa Hachiman Festival is a festival to be held in Koto Ward, Tokyo. It is also famous for its name Shenzhen Festival. Fukagawa Hachiman Festival is aligned with the Kanda festival and three company festival as one of the Edo Sansei Festival.
At the festival this festival is held once every three years, other years will be a festival. Since the main festival to be held in the near future is 2017, please take your feet to Tomioka Hachimangu Shrine. In this festival, since Hachimangu Shrine Feng Shui and more than 120 town shrines and mikoshi pass through the Mizo region, the road is filled with many people. You can understand its amazing skills from the height. Especially 54 consecutive shrine maid shrines are gathered together, the spirit of the clerk is tremendous, the side you see is unintentionally forgetting breathing.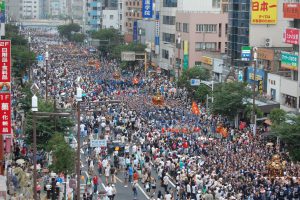 [引用]http://koto-kanko.jp/event/fukagawahachiman-maturi2014/
Well known as Tomioka Hachimangu Shrine is a three-pronged shrine mikoshi decorated with a total of money. This shrine is said to have been donated by Kinokuniya Monaemon, who was named as his lone merchant. However, it was unfortunately burned down due to the Great Kanto Earthquake hit about 100 years ago from now. However, thanks to the efforts of locals and festival supporters, in 1991 a golden palace shrine was once again dedicated.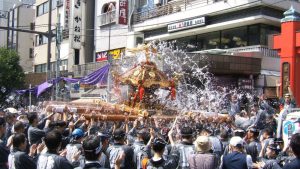 [引用]http://www.kmine.sakura.ne.jp/tokyo/maturi/tomiokahachimanmaturi/tomiokahachimangureitaisai.htm
Well, there is a name called Fukagawa festival and another pond called Fukagawa festival at Shenzhen Hachiman Festival. It literally multiplies water with Bishabisha when doing a shrine transfiguration. However, actually watering is a visitor on the roadside that gathered in the shrine transit. This water has the work of healing and purifying the burning body of the carrying hand. When clean water is hanging on, the clerk like the fish that got the water cheerfully multiplies "WASHOO !! WASHOO !!" and raises the festival even more.
Feng Feng that hands over while the splash of water splashes is very beautiful and more divine so let's put that moment in the camera. However, please be careful not to hang clean water on the camera.
Festival in 2017 once in three years
Venue: Koto-ku, Tokyo Area around Tomioka Hachimangu Shrine
open time:
event date: Normal year: mid August August 11, 2017 (Friday, congratulation) – August 15 (Tue)
Remarks concerning the opening date: http://www.tomiokahachimangu.or.jp/
Access method (other): · About 5 minutes from "Tokyo Otemachi" station on Tokyo Metro Tozai Line, get off at "Monzuma Moncho" station, 3 minutes on foot
· About 30 minutes from Shinjuku Station on the Toei Subway Oedo Line Get off at "Monzennakki-cho" station, about 6 minutes on foot.
For inquiries: Tomioka Hachimangu Shrine 03-3642-1315