The Hamamatsu Festival is a festival to be held in Shizuoka Prefecture Hamamatsu City. Many spectators come and go from inside and outside of the prefecture because they are held for three days from the 3rd to the 5th of the Golden Week. The number has reached 1.5 million people, such as Hamamatsu City 's biggest event is drawing attention every year.
By the way, the beginning of the Hamamatsu Festival is supposed to be a celebration of a large kite fried by Sagashi Jigoro who lived in Ichino village when the first child of the castor shrine Odori Buza Mamoru "Yoshihiro Yoshihiro" was born. At that time the big kite that danced in the sky had the name of the first birth of Yoshihiro Yoshihiro written. From that event the deep-fried kite was rooted as a traditional event wishing for the birthday celebration and healthy growth of the first son (presently the first child). After that, the large kite flying has become tournament tournaments and it has come to be seen as aspects of competition and entertainment. And by the merger with the Hamamatsu Electrifying Festival commemorating the Tokaido Main Line's electrification to the Hamamatsu section, we have reached the current Hamamatsu Festival. So it is not a festival cultivated as a shrine festival, even though it attaches itself to the name.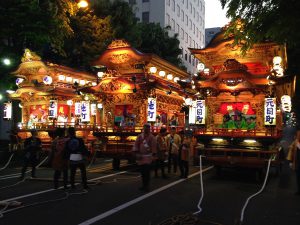 [引用]http://www.ikemachi.org/notice/2016042801/
Kite flying tends to attract attention as a highlight, but it is also a must-see for the gorges stalls (gable or wish) to be held from the evening. The festival music accompanies the elegant sound while being shaken by a stall where fantastic lights are lit. The elaborate carved pattern of the stalls entertains the eyes of the viewer and excites the Hamamatsu Festival till the end, fascinating the structure suitable for the name of Gotenori.
Since the route where Goten stalls are pulled is announced on the official website, we recommend checking before participating in the festival.
Venue: Shizuoka prefecture Hamamatsu city Nakatajima area
open time:
event date: May 3 (Wed) 2017 – May 5 (Fri) 2017
Remarks concerning the opening date: http://hamamatsu-daisuki.net/matsuri/
Access method (other): A direct shuttle bus leaves from two places, JR Tokaido Line Hamamatsu Station Hamamatsu Station and Iida Park Temporary Parking Lot.
For inquiries: Hamamatsu Festival Organizing Committee 053-458-0011