The Yokosuka Mikoshi Parade is a festival to be held in Yokosuka City, Kanagawa Prefecture. In 2016, we recorded the number of visitors of less than 60,000. Since Yokosuka city is a garrison of US forces in Japan, the Yokosuka Mikoshi Parade is also a festival deepening friendship between Japan and the United States. However, because it is possible to enter the military facility at the festival, you may be required to present identification cards such as passport, My Number card with photo. Baggage inspection of metal detectors is also thoroughly done, so dangerous goods are certainly of course, but please refrain from carrying inappropriate personal items.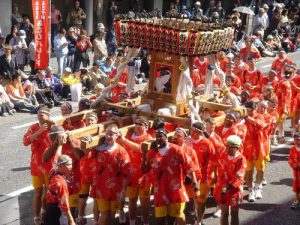 [引用]http://yokosuka-kanko.com/pickup/2016/09/40.html
The Yokosuka Mikoshi parade, which is about 60 or more organizations rushing with mikoshi boats and floating cars, is very comfortable and it is peaceful. The parade started from Yokosuka Central Avenue, and we will also begin to advance from the Clement Street in the US Navy Yokosuka Base where Japanese people are not normally allowed to walk. It is a military facility where tension is always stuck, but it is full of smiles only at Yokosuka Mikoshi parade.
The video belongs to US Navy Yokosuka Bases CFAY. While raising the call of 'Watashi! Watashi!', We are handed over by a shrine of the Japanese and American flags. A band performance of a music corps playing a more beautiful tone and a ladder riding with a madder parade to make a balanced appearance are done together with the parade, and the celebrations are gaining in the venue and it is very exciting. American stalls with delicious snacks are also set up, so why not try tasting at Yokosuka Mikoshi Parade by all means?
■ Time schedule
10: 30 ~ Yokosuka Central Avenue Parade Start
11: 20 ~ US Navy Yokosuka Base Clement Street Parade Start
14: 00 ~ Ceremony (inside US Navy Yokosuka base)
14: 30 ~ Ladder glue (within US Navy Yokosuka base)
12: 00 ~ 12: 45/13: 15 ~ 14: 00
7th Fleet Music Corps Band Performance (US Navy Yokosuka Base Benny Decker Movie Theater)
Depending on the progress of the day ※, time may be around.
Venue: Yokosuka Central Avenue, US Navy Yokosuka Base Clement Street
open time: Admission to the base is from 10:30 to 14:30
event date: Normal year: Sunday mid-October
Remarks concerning the opening date: https://www.cocoyoko.net/event/mikosi-fes.html
Access method (other): Get off at Keikyu Yokosuka Central Station, 1 minute on foot
Get off at JR Yokosuka station, about 15 minutes on foot
For inquiries: General Association Yokosuka Tourism Association 046-822-8256