The gems briefing will be held at Sensoji Temple on Saturday, March 18, 2017.
Emperor Suiko 368 (628) Celebrate that the stone statue of Buddhist image of Sensoji temple from March 18th was crowded from the Sumidagawa river, and each year, the legal requirements of the "Appreciation Society" are carried out. On the day, the skill training of the Asakusaji Yamanai civilian population will be done strictly before the legal requirement at the Main Hall at 14 o'clock. Before and after the legal requirement, one of the Asakusaji Temple Mai "Mai of Gold Dragon" is dedicated to the eyes of the pilgrims. Also, only in this day's prayer wagon, a red tagle called "red tag" will be awarded.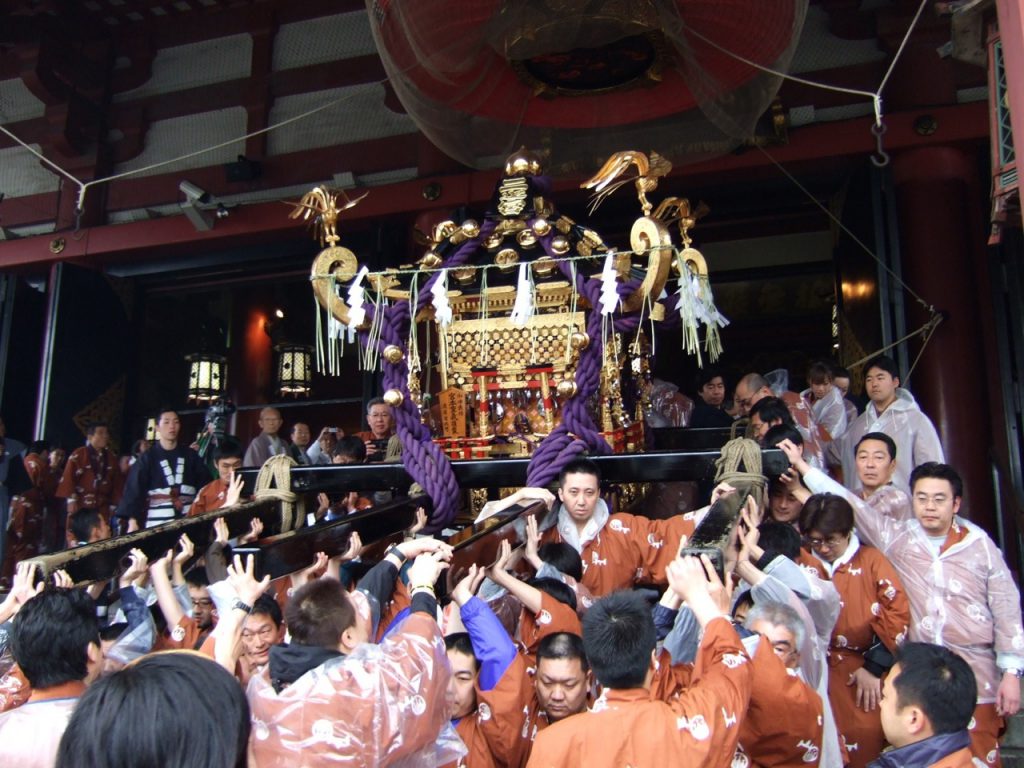 Also during the middle ~ late March, "Doomu" will be done, the next day "the castle" will be done. This event was revived in 2003 (2003), the three shrines Miyomi shrine (Miyamisoshi) who worshiped the god of the Asakusa Shrine was to stay in the main hall overnight, the stairs in front of the main hall, Miyami which the total weight exceeds 1 ton Mikoshi is like a rally to go up and down.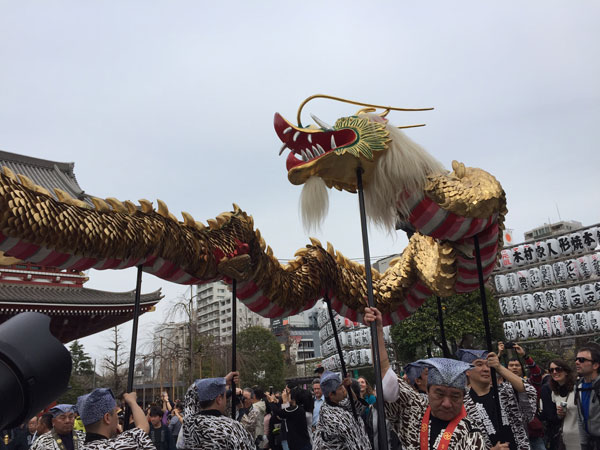 (The date and time seems to differ from year to year, please contact Asakusa Temple for details).
■ Time schedule
Past: Heisei era "Heisei" March 17 (Thu) Reference
6: 00 p.m. Sengoku no Sengai
6:35 pm Miya Mikoshi three bins out
Transfer at 6:50 pm Marching departure (Main Hall door opened)
6:55 pm Headquarters Mikoshi three units arrived in front of Asakusadera main hall
7:00 pm "Start up" starts
7:20 PM Asakusa Temple Ichiyama Sentenki
Past: Heisei era "entrance" March 18 (Fri) Reference
The gods of Ichinomiya (Dojo Major Tomoi), Ninomiya (Ninomiya Castle), Sannomiya (Hinamaki Takeharu Ayumi) who were paid to the main hall of the main hall stayed overnight in front of Honbune, the following morning, Asakusa Shrine Following the shrine's ___ SAFETOKU ___ SAFETOKU ___ ___ ___ ___ ___ ___ ___ 0 In the evening, three head shrines mikoshi will return to Asakusa Shrine by the hands of Mrs.
9:00 am Asakusa Shrine Shinto priest priest ceremonial, Asakusa Temple Ichiyama crowd REI
9:15 am Start "entrance"
9:35 in the morning Shinbun Binzazaura Mai donation Asakusadera Main Hall
9:45 am Garden festival passing front Hondo – West side of main hall – back of main hall – east side of main hall – shrine torii front
10:15 in the morning Transfer Shinto shrine Toriie-entrance
4:30 pm Miyako Mikoshi three bunker storage
5: 00 p.m. Sengoku no Shinryou
Venue: Asakusa-jima Main Hall, Shinkai, Asakusa Shrine Shrine premises
open time:
event date: March 18, 2017 (Saturday)
Remarks concerning the opening date:
Access method (other): Tobu Sky Tree Line: 5 minutes on foot from Asakusa Station
Tokyo Metro Ginza Line: 5 minutes on foot from Asakusa Station
Tsukuba Express: 5 minutes on foot from Asakusa Station
Toei Subway Asakusa Line: 5 minutes on foot from Asakusa Station A 4 Exit
For inquiries: TEL: 03-3842-0181 Reception hours 10: 00 ~ 16: 00 (except Sundays and public holidays)