The Showa Tenman-ina Festival is a festival to be held in Akishima-shi, Tokyo. Although there are many festivals which adults are focused on to raise, the Showa Tenmann festival is also characterized by having many children's gifts. Wako drum clubs and energetic dance clubs where primary school students to high school students participate will also perform, for example, from lanterns and drums where rewards can be received when children participate.
By the way, at the Showa Tenmanzaki Festival, when the neighborhood becomes dim, the manikin shinkoku passing from which the gentle light is drawn starts. It is very beautiful to see from afar because it is lit with lanterns so that it surrounds a shrine mikoshi. In the evening, after sunset, the brightness of the sky will change depending on the nighttime and the time of day, but the appearance of a million lantern shrine differs from time to time. Why not try changing the time and watching the gift?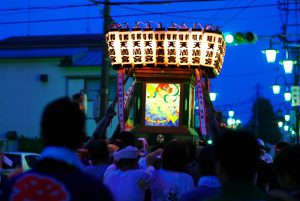 In addition, the fans of Fukushima Shiba hayashi reverberate in the passing of the mountain car. If you listen to Fukushima Shiba Hayashi, you will find that you are comfortably elegant with clauses and sounds playing, rather than making the sound bigger. Fukushima Shiba Hayashi also has the name of Oshikashi Shashihashi, which is characterized by elegant performance as the name suggests.
Although it is the Showa Tenmann festival held every year, the event was canceled by the guerilla heavy rain in 2014. As weather can be canceled due to rainy weather, we recommend that you contact the organizer if the weather is bad. Let's look forward to holding a festival as you ask God to be blessed with the weather.
Venue: Akishima-shi, Tokyo
open time:
event date: Normal year: Saturday and Sunday of the third week of August
Remarks concerning the opening date: 昭和天満宮 八清天親会(神輿同好会)
Access method (other):
For inquiries: