Hirosaki Sakura Festival is a festival to be held in Hirosaki City, Aomori Prefecture. Hirosaki Park where a festival is held has Hirosaki Castle, which was solidly held. Hirosaki Castle, which was built in 1611, currently has 3 layers of castle tower, but there were 5 castle tower towers at that time. However, it is said that two layers were destroyed by lightning.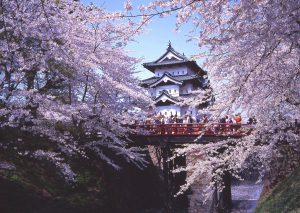 [引用]http://www.city.hirosaki.aomori.jp/city_promotion/photo/2012/06/post-4.html
By the way, at the Hirosaki Cherry Blossom Festival, you can watch over 50 kinds of cherry blossoms including Yao Kurenai branch cherry tree, Hirosaki snow light, Kasumisakura, Yoshino cherry tree etc. There is an outer moat in which the water runs slowly in the site, but when the cherry blossoms fluttered down, one surface of the water changes to pink color. The scenery is very beautiful, and there are many tourists who can put in the picture. How about trying to take pictures of cherry blossoms in full bloom, Hirosaki castle and pale blue Iwakiyama on a clear day? The contrast between red, green and blue is beautiful. In addition, some yoshino cherries have over 130 years old trees, the earliest ones have records planted in 1882. On a sunny day, you can also take a boat at Nishibori and enjoy views of the cherry blossoms in full bloom from the water.
It is also very interesting to see the cherry blossoms light up after sunset. The lighted-up cherry blossoms give a grandiose atmosphere, and they show us a different appearance from the daytime. During the festival, stalls and so on are open, so if you are hungry, let's have snacks there. However, when you go all around Hirosaki Park, it will take about an hour for the time. For that reason we recommend that you schedule the management firmly and efficiently.
Venue: Hirosaki-shi Hirosaki Park in Aomori Prefecture (1-1-2 Shimokohama-cho, Hirosaki-shi, Aomori Prefecture 036-8356)
open time:
event date: Saturday, April 22, 2017 – May 7 th (Sunday)
Remarks concerning the opening date:
Access method (other): Walking: Hirosaki station · Bus terminal → About 20 minutes → Hirosaki Park bus: Hirosaki station front → Tamachi circulation 100 yen bus (about 10 minutes) → Hirosaki Park ※ It runs every 10 minutes from 10: 00 ~ 17: 00 .
For inquiries: http://www.hirosakipark.jp/sakura/
TEL:0172-35-3131