Kawagoe Festival is a festival to be held in Kawagoe-shi, Saitama. It is also an important intangible folk cultural property designated as a country, and it is handed down as a pride of Kawagoe citizen. Because the festival is held at Hikawa Shrine, there are cases sometimes called Kawagoe Hikawa Festival. Strictly the name here is formal. It seems as if the Kawagoe Festival and the gorgeous luxurious mountain cars walking around the town seemed like a time slip in the Edo period. Due to its glamor, the number of visitors in 2016 reached over 980,000. In the same year, it is also a festival attracting attention from home and abroad, such as "Yama, Hokkaido and Yatai Events" are also registered as UNESCO Intangible Cultural Heritage as a unique culture. It is counted as one of the Kanto three major festivals, and it is aligned with the great festival of Sawara in Chiba prefecture and the ordinary grand festival of Chonbukuro Shrine in Ibaraki prefecture.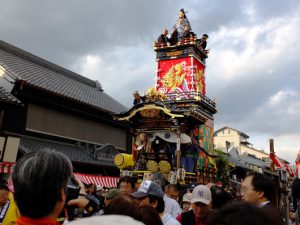 [引用]http://simple-art-book.blog.so-net.ne.jp/2012-10-22
Well, the origin of the Kawagoe Festival begins with Matsudaira Shinpasu, who was the lord of Kawagoe in 1648, dedicated two shrine mikoshi, Shishigo and drums to Kawagoe Hikawa Shrine. The reason why Matsudaira Shinzan donated a mikoshi etc. to Hikawa Shinko was because of the reconstruction and sacrifice from the Kawagoe Great Fire that occurred in 1638. Because Kawagoe was a special land called Shogo Edo, it has been influenced by the Tenshi Festival (Sanno Festival, Kanda Festival) which was held in Edo. The influence has been deeply inherited to the present, and in 2005 "Kawagoe Hikawa Festival float event" was designated as the important intangible folk cultural property of the country in order to preserve the traditional culture for the future.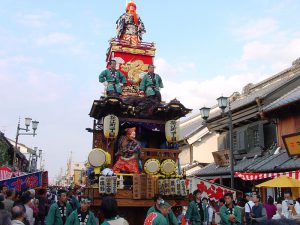 [引用]http://tagenyu.info/post-228/
There the floats of the floats that we will pass as the big as 8 meters high and weigh about 5 tons, which is very huge. There the 29 floor mountain is float approach, the audience will beat the neck and look up. It is "Luo Ling King" owned by Nakamachi Association. Luo Ling is the oldest float of the Kawagoe Festival that was built in 1862 It is a masterpiece to remember the illusion that human beings are standing despired being supposed to be a doll, so please take a look at Luo Ling King of Naka – machi.
At night, the lights of the lanterns are lighted on the floats, and the festival is wrapped in an elegant atmosphere. From this time "towing" will be done in various parts of the city. It is also a fascinating place that makes a spectator's line of sight glare because it is a competition of musicians performed when floats are encountered by each other. Please also pay attention to the breath-taking handwriting.
Venue: Saitama ken Kawagoe city
open time:
event date: October 14 (Sat) 2017 – October 15 (Sun) 2017
Remarks concerning the opening date: http://www.kawagoematsuri.jp/index.html
Access method (other): (In case of coming by train) Shinjuku from JR Saikyo line get off at Kawagoe station quickly (in case of coming by car) from Kanegoshi Expressway Nerima IC ~ Kawagoe IC 21.2 km or Capital Express No. 5 Ikebukuro Line ~ Saitama Omiya line
For inquiries: Kawagoe City Hall Tourism Division 049-224-5940