Tatara Festival is a festival to be held in Kawaguchi city, Saitama Prefecture. In the Kawaguchi city, the casting industry has been popular since the Edo period, and the "Tatara" of the Tatarasan festival has the meaning of bellows that sends wind for iron making. There are not a few people who knew tatara in the work of Ghibli movie Princess Mononoke. The Tatarasan festival which began in 1978 is familiar to Kawaguchi citizens as summer scenes, and exhibition corner · bazaar · adult mikoshi cruise · samba parade etc. will be held mainly around Kawaguchi auto race ground. It is a wonderful festival that can contribute to society, such as the establishment of blood donation corner in that corner.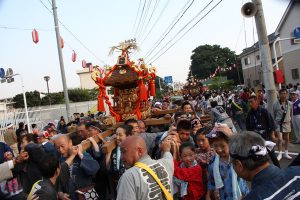 [引用]https://www.tatara-matsuri.com/
Nine mikoshi walking around Kawaguchi City in adult mikoshi cruising, it seems that the carrying person reaches about 1,400 people. Tatara festival adult mikoshi cruising will not ask gender. So you can see a mikoshi with men and women carrying together. Furthermore, not only adults but also kids who attend kindergarten nursery schools perform a miscellaneous kids marching together. It is also recommended to take part in the Festival Festival, which is full of excitement from a wide range of age groups from adults to children.
Fireworks festival is also held at Tatara Festival. There are features close to the fireworks launch point and spectators' seats, so you can watch the fireworks as if you are approaching the eyes dynamically. Please enjoy the fireworks of about 3,000 fireworks that will be launched into the night sky at Kawaguchi Auto Race Center by all means.
■ Time schedule
August 6 (Saturday)
14: 20 ~ Earliest Taiko
15: 10 ~ Samba parade
17: 00 ~ sinking dance
Venue: Kawaguchi Auto Racing Area (23-1 Aoki 5-chome Kawaguchi-shi, Saitama Prefecture 332-0031)
open time: Described above
event date: August 6 (Sat) and 7 (Sun) in 2017
Remarks concerning the opening date:
Access method (other): Keihin Tohoku Line A free bus runs from JR Kawaguchi Station, JR Railway Station, and JR Nishikawaguchi Station
For inquiries: