Yorii Akimatsuri is a festival to be held in Yorii City, Saitama Prefecture. It is familiar with the name of Yorii Fall Festival, but there are cases sometimes called Munakata Shrine Fall Festival Great Festival. Munakata shrine founded in 701 is dedicating the spirit of Munakata Taisha Shrine in Fukuoka prefecture. History of the establishment of Munakata Shinto shrine was to defend the repeated flooding of Arakawa. Originally Arakawa (current first-class water system) was flowing around the residence, it is said that the inhabitants often suffered from flood disasters easily once heavy rainfall occurred, flooded easily. Munakata shrine was established to quell the flooding of Arakawa with the power of Munakata Taisha.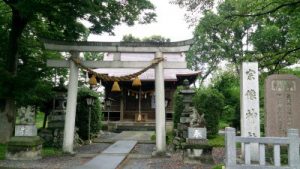 [引用]http://ameblo.jp/darakoya/entry-11907508536.html
By the way, at the Yorii Fall Festival, seven cars are handed over for two days. Route is from the Munakata Shrine on the first day to the city area, the final day from the urban area to the Munakata shrine to return to the festival. There is a characteristic feature in each town (Honmachi, Nakamachi, Sakaecho, Takeo, Kayama, Miyamoto, Normal wood) It is also the biggest attraction of the lodging autumn festival. Since each doll includes chicken (camel), wild monkeys, bamboo shoots and so on, you can tell at a glance from which town car of the town.
Particularly the mountain cars on which chicken roots of Kayacho are listed have been carefully kept and designated as Yorii Town Important Cultural Property in 1974. It seems that the oldest one is said to be a mountain car with Taketomi 's wild monkey. It seems natural that the doll is on top of the float, but there was something temporarily that was not the case during the succession of the festival. Actually Dating from Heisei era In the Taisho era, due to the increase in the place where electric wires are stretched from the change of living, there were times when dolls were dropped from the floats until about 2004. Currently I am happy but I have revived as a festival.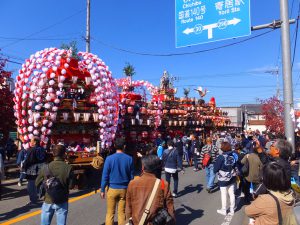 [引用]http://shinschan7.exblog.jp/tags/%E5%AF%84%E5%B1%85%E7%A7%8B%E7%A5%AD%E3%82%8A/
Did you know that there are no dolls on all the floats? Actually Miyamoto and Tsunagi 's floats are not dolls but "Kasakaba" are on it. Float dolls are also present to add festivals to festivals, but there are also places of interest such as decorations of floats and craftsmen. Please appreciate the passing of the mountain car in each town.
Venue: Saitama prefecture Yorii City
open time: Saturday: 3:00 pm – Sunday in the 11: 00 am ~
event date: Saturday, November 4, 2017 – November 5, 2017 (Sunday) * Normal: First Sunday in November and the previous Saturday
Remarks concerning the opening date: http://yorii-kanko.jp/akimaturi.html
Access method (other): Yorii Fall Festival Executive Committee Secretariat (within Yorii-machi Tourist Association) ☎ 048 · 581 · 3012
For inquiries: Tobu Yorii Station → 5 minutes on foot