Tenjin Festival is a festival to be held in Osaka, Osaka Prefecture. It is also known as the three biggest festivals in Japan and is aligned with the Gion festival in Kyoto Prefecture and the Sanno festival in Tokyo. In Osaka Tenmangu Shrine where the Tenjin Festival is held, he is proud of the god of learning "Sugawara Mamo" and there is a benefit of marriage, school accomplishment, and disease-free breathing. From Osaka citizens, it is familiar with the nickname "Tenjin of Tenma (Tenma)".
Well, the origins of Tenjin Festival dates back to the Heian period of 951 years ago. Ogawa was flowing in front of Osaka Tenmangu shrine where the Tenjin Festival was held. I shed a Kamikoko from the company 's beach and decided the place I arrived at as a fairy where the Holy Spirit lived. It is considered that the arrival of the Tenjin Festival (Funato Transportation) is the fact that many boats greeted the Holy Spirit at this time. The festival continued and the history continued and there is a record that the number of ships increased even more when the Tensou people Toyotomi Hideyoshi era, gradually the fountain like the present was formed. Even in the current Hokoro Shrine, the shrine who got on Saori from Dojima River will make a mosquito, the priestess will shed a fodder. The action of letting it flow into the water represents shedding a calamity to people.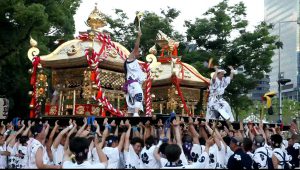 [引用]https://www.youtube.com/watch?v=i0i8mD4JNxE
If you transfer the spirit of Sugawara Kamigami to Ganoda Kana Feng Shui, Shinko begins landing in Osaka Tenmangu Shrine. Lu Qi advances with the calling "Sole" of the carrying hand and gathers the gaze of visitors who visited. In front of it, a "hope" who wears a red hood is carrying out "Hanzo" which strikes the drum, and Ogawa, Sakuhide, Kamaboko, Earthquake and others aim for Okawa and walks around the city bravely.
Then Otori who arrived at Okawa carries out a fleet from around the Tenjinbashi. In Funato, the Bonham ships carrying God and the donkeys carrying the Taiko drums and accompaniment are gradually advancing over the water. On the final day and night, beautiful and exquisite fireworks are donated, and the Tenjin Festival ends with colorful coloring of the Osaka night sky. Since the number of fireworks that can be launched is about 5,000, please see it in Osaka by all means.
Venue: Osaka Tenmangu(〒530-0041 Osaka prefecture Kita ku Tenjinbashi 2 – chome 1 – 8)
open time:
event date: Tenjin Festival Shunkyu on July 24 every year, Tenjin Festival main shrine (including fireworks display) will be held on 25th.
Remarks concerning the opening date: http://www.tenjinsan.com/index.html
Access method (other): · Get off the subway Tanimachi Line · Sakaisuji Line "Minamimorimachi Station"
Go up the DEF stairs, go right at the Tenjinbashi shopping street just after leaving the 4th gateway, and cross two stairs to the left 50 meters
· Get off at JR Tozai Line "Osaka Tenmangu Shrine"
Take the JR Tozai line 3 entrance (Tozai Line Access Building) to the left at the Tenjinbashi shopping street, Tsuji eyes to the left 50 m
For inquiries: