Omori Kasuga Shrine example festival is a festival to be held in Ota Ward, Tokyo. It is not clear from the fact that there is no data left on the foundation. However, from the legend, I know that I had been asked by Nara Kasuga Taisei in the Kamakura period. In 1938 the current main hall was built.
Well, the Omori Kasuga Shrine festival is held once every two years, a festival where a miki shrine is handed over will be held. Holding of this festival seems to be no mistake because the Christian calendar year will be an even number year. The Palace of Omori Kasuga Shrine The shrine Mikoshi was a color scheme based on golden color, with a graceful sculpture on the whole is sparingly given. The carrying stick is also made of white wood instead of black, depending on how much the light hits, it looks like gold. The shrine of the shrine Mikoshi is the size of the two – dimensional five – tiered wheels.
If you are watching a ceremony carried out by a cheer of "Tasty !! Tasty !!", you will surely notice a strange way of doing it. The way of carrying in Otomori Kasuga Shrine's passing is what is called so-called Jongnam carriage. The direction of the carrying hand is uneven. In Jongnam carrying, the bearer turns towards the shrine. It would be rude to point the butt to the shrine of the Holy Spirit. However, it seems that it does not necessarily have to keep a way to carry on, and in the festival all the members of the shrine are not turning towards the shrine mikoshi, seems to respond flexibly.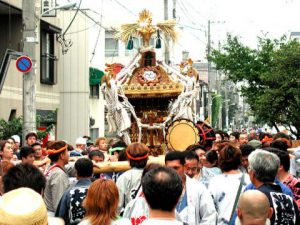 [引用]http://ichinokura.com/2002kasuga.html
And the way the sticks are assembled is also distinctive, they are long, four in length, four in length, and longer in lateral direction. Therefore, the transfer of the shrine mikoshi will progress while spreading in the horizontal. As many carry-ons can be entered, it's cool and delicious. However, because it is carrying Jongnam, it seems that there are some difficult parts, as it is easy to walk away from being hard to walk. From the evening when the brightness was suppressed, votive dedication etc. will be performed, so please enjoy listening to traditional arts.
Venue: Around Otaku-ku Tokyo Omori Kasuga Shrine Around(14-1, Chuo-ku, Ota-ku, Tokyo 143-0024)
open time:
event date: Scheduled on Saturday, June 10 and Sunday, 11th June 2017
Remarks concerning the opening date: http://tensosuwa-jinja.jp/kasuga-index.html
Access method (other): JR Keihin Tohoku Line Omori Station West Exit ※ Required time About 15 minutes on foot
For inquiries: Omori Kasuga Shrine 03-3771-2729