The Senju Tenno Festival is a festival to be held in Arakawa Ward, Tokyo. The festival is held every year, but it can be divided into a festival and a festival depending on the holding year. This festival
It will be held once every three years, and the head office big shrine mikoshi will hand over the Mizo region. It is also a very spectacular festival such as the decorated float plain of Inada Ogami's wife Fumi Inada. In contrast to the year when the festival is held, it is called a festival. Please note that at the shade festival the head office big shrine mikoshi will not pass. By the way, since the main festival held in the last year was 2015, the main festival where the main shrine mikoshi can be seen will be 2018 years three years later.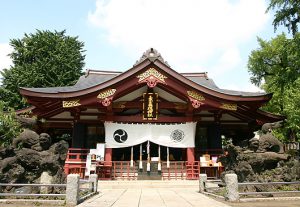 [引用]http://www.susanoo.or.jp/yuisho/index.html
Well, the most interesting thing about the Tenno Tenno Festival is that it will be a shinko shinki waving the main shrine mikoshi wildly. Even this! As we shake the shrine to the left and right, we can also see visitors who are surprised to open their mouth openly. On the other hand, the headquarters of the Senju Tenno Festival, a general shrine carrying a stick of a shrine mikoshi are four pieces combined in a cross shape, whereas only the two sticks (two sticks) with a length of 8.1 meters are provided. Moreover, the weight is very heavy with a thousand consistency, and it is difficult to keep the balance well. It seems as if the appearance of the wig shogiku is embodying the anecdote of Mr. Nakao Ogami of the God of God.
And there are restrictions on the owner who hands the head shrine big shrine mikoshi, and it is not allowed to be carried only by young people in the three districts of Minami-senju, Mikawajima, Machiya. Surely checking movies and images shows that the clerk is the only youngster. Also women and young people are excluded. But enjoy the festival
Mikoshi in the headquarters was built in 1995, a headquarters child mikoshi was made in 2008 so that women and young people wanting to mischieve shikigo carry on.
Please come and see the festival's headquarters big shrine mikoshi and the wandering shinko shinku at hand.
Venue: Arakawa-ku, Tokyo neighborhood shrine shrine
open time:
event date: Saturday, June 3rd 2017 · Sunday, June 4th
Remarks concerning the opening date: http://www.susanoo.or.jp/
Access method (other): 9 minutes on foot from Minami-Senju, Tokyo Metro
For inquiries: