Twelve companies Kumano Shrine festival is a festival to be held in Shinjuku-ku, Tokyo. It is not necessity to read all over, so it is "everywhere" so make sure you do not make mistakes. Twelve companies Kumano shrine is located in Shinjuku Ward where downtown areas of the city gather, and it is settled in 5 minutes from JR Shinjuku station by bus.
It is famous as a relaxing power spot surrounded by rich greenery while sitting in the city center.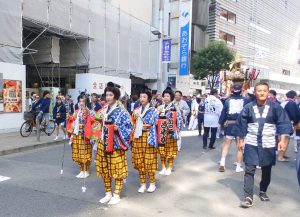 [引用]http://blogs.yahoo.co.jp/taira_oha33/33007457.html

Well, at the festival, women's hand graffiti wearing makeup and costume wears ahead of the shrine. Twelve companies The Kumano Shrine festival has participated from the wide area from Nishi Shinjuku to around Kabukicho, and you can see the union leaders that many mikoshi meet in one place. When the fathers in each region and others give a chance to go on to hand in hand, the inorganic building streets will be warmly enveloped at once.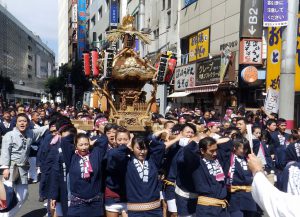 [引用]http://blogs.yahoo.co.jp/taira_oha33/33007457.html
And there are things like zigzag playing at the sites of the twelve company shrine festivals. Tiger stag bearer is a unique way of carrying Kumano Shrine rarely nationwide, gradually narrowing the stride while turning both arms back. To introduce it further, the stag bear does not support arm and hand but "back behind the neck" to support a mikoshi. Do you know that even a motion picture carries a carrying stick on the back of the neck?
Therefore, it is known as a difficult way of doing things because it has to trim the trunk while keeping the stride together with the hands. The stag bearers warped from putting the carrying stick behind the neck, and it will become like a thing that throws out nature and feet. It is reminiscent of so-called staggered feet how to walk someone who is drunk drinking somehow. By all means at the festival let 's send cheers to the clerk with a cheek of "Hey, Say a little" from the roadside.
As it is still difficult to grasp the knacks, we hold seminars for holding people every July. Those who can not visit the festival will be able to taste the feelings of Kumano Shrine festival by visiting this seminar.
Venue: Twelve companies Around Kumano Shrine(2-11-2 Nishi-Shinjuku, Shinjuku-ku, Tokyo, 160-0023)
open time:
event date: Saturday, September 16, 2017 – September 17, 2017 (Sunday)
Remarks concerning the opening date: http://12so-kumanojinja.jp/
Access method (other): Toei Oedo Line Nishi Shinjuku 5-chome Station A 4-minute walk from Exit Toei Oedo Line Toei-mae Station 5 minutes on foot from A5 Exit Tokyo Metro Marunouchi Line Nishi Shinjuku Station E 4 Exit 13 minutes on foot
For inquiries: